Does anxiety make you skip dental visits?
Intravenous or IV sedation offers an option to help you feel more comfortable at the dental chair. It doesn't put you to sleep, but it can leave you with little to no recall of the procedure.
IV sedation is usually recommended for those with phobias as it provides a deeper state of relaxation.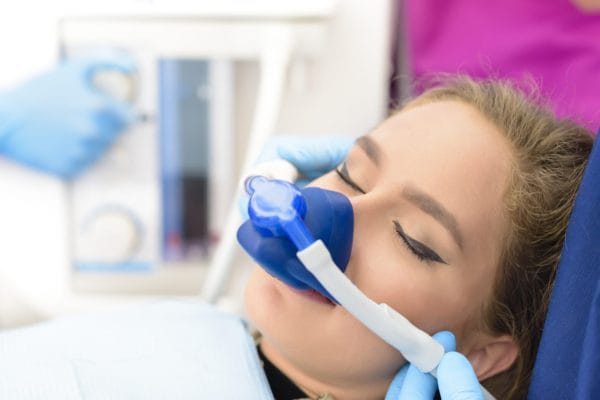 How is the IV sedation administered?
Unlike other types of sedation, IV is administered directly into the vein, usually at the hand or arm. This allows it to take effect immediately.
IV sedation is also referred to as monitored anesthesia as your vital signs - breathing, pulse, blood pressure - are monitored throughout the procedure.
You may still be able to respond to your dentist and breathe on your own. Your dentist can also adjust the dose depending on your anxiety level or the extent of your procedure.
What to expect before and after your appointment
IV sedation involves preparation. Your dentist reviews your medical history, along with your current medications.
You may need to stop eating or drinking several hours before the procedure. And you also need to arrange transportation to the dental office and back home.
During the procedure, you'll become less aware of your surroundings. You also won't notice sounds, smells, or sights at the dental office.
Even after the procedure, you might still feel drowsy, so it's important to have someone to keep you company.
You also need to relax and skip any strenuous activities for the next 24 hours until the medication wears off completely.
What are the benefits of IV sedation?
Here are some of the benefits that IV sedation offers:
Takes effect quickly
Helps you relax during complex procedures
Allows you to cooperate for a long period
Provides a deep state of relaxation
Causes period amnesia as you'll have no memory of the procedure
Lets your dentist adjust the dose to your specific needs
Are there any side effects?
IV sedation is safe, and complications are rare. Your dentist reviews your oral health and general health history before recommending it. They also monitor your body's reaction to the medication throughout the procedure.
Learn more about IV sedation for dentistry in Kemptville, ON
We're pleased to let you know that our dentist is trained in administering IV sedation for dental procedures.
We recommend starting with a consultation, especially if you or the client is a senior or has special needs. Generally, IV sedation can benefit those who are undergoing complex dental procedures and have a strong gag reflex or high anxiety levels. Find out which sedation options are right for you, so you can receive the dental care treatments that you need with ease. Contact us today at (343) 308-2258 for more information.