The loss of a tooth, or in some cases multiple teeth, can have a profoundly negative impact on a patient. These consequences can range from physical to psychological. In terms of physical repercussions, missing teeth can change your bite profile, which in turn could lead to difficulty chewing or issues with your jaw. Furthermore, the rest of your teeth could become misaligned or shift from their natural position in an attempt to fill the gap. In terms of psychological or emotional repercussions, some patients may feel that losing a tooth is comparable to losing a part of themselves. In addition, patients may lose their confidence and self-esteem due to the missing teeth negatively altering the visual appearance of their smile.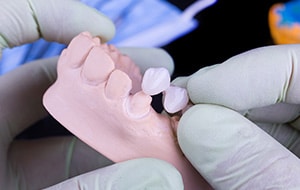 It is therefore of high importance to replace missing teeth with a high quality and durable dental solution. Here at Kemptville Smiles Dentistry our dentist in Kemptville, Dr. Besher Alfarra can offer dental bridges as a suitable solution to your problem. The process requires a thorough assessment to determine what type of dental bridge is most appropriate for you and your needs.
Dental bridges rely heavily on the adjoining teeth to act as anchors that can hold in place a dental prosthesis, which is designed to replace one or more teeth. There are several types of bridges that your Kemptville dentist, Dr. Besher Alfarra can assist you in choosing. One of which is a traditional bridge, which is often held in place by abutment teeth on either side of a pontic or replacement tooth. Another option that may prove to be more effective is the Maryland bridge, which is when the pontic is attached to the adjoining teeth using small metal wings that are affixed to the backs of your teeth using a dental adhesive.
Contact us at (343) 308-2258 today if you believe that for your situation, a dental bridge is an ideal dental treatment. Kemptville residents need only book online or call your Kemptville dentist, Dr. Besher Alfarra to get started. Dental bridges may also be used to fill in the gap left behind from a tooth extraction procedure.